Image

China Life Early Critical Care Rider
Product Summary
With China Life Early Critical Care Rider, you will receive early payouts from your basic policy if you are diagnosed with a critical illness, from early, intermediate to major stage plus additional special1 conditions, giving you financial support and helping you get on the road to recovery.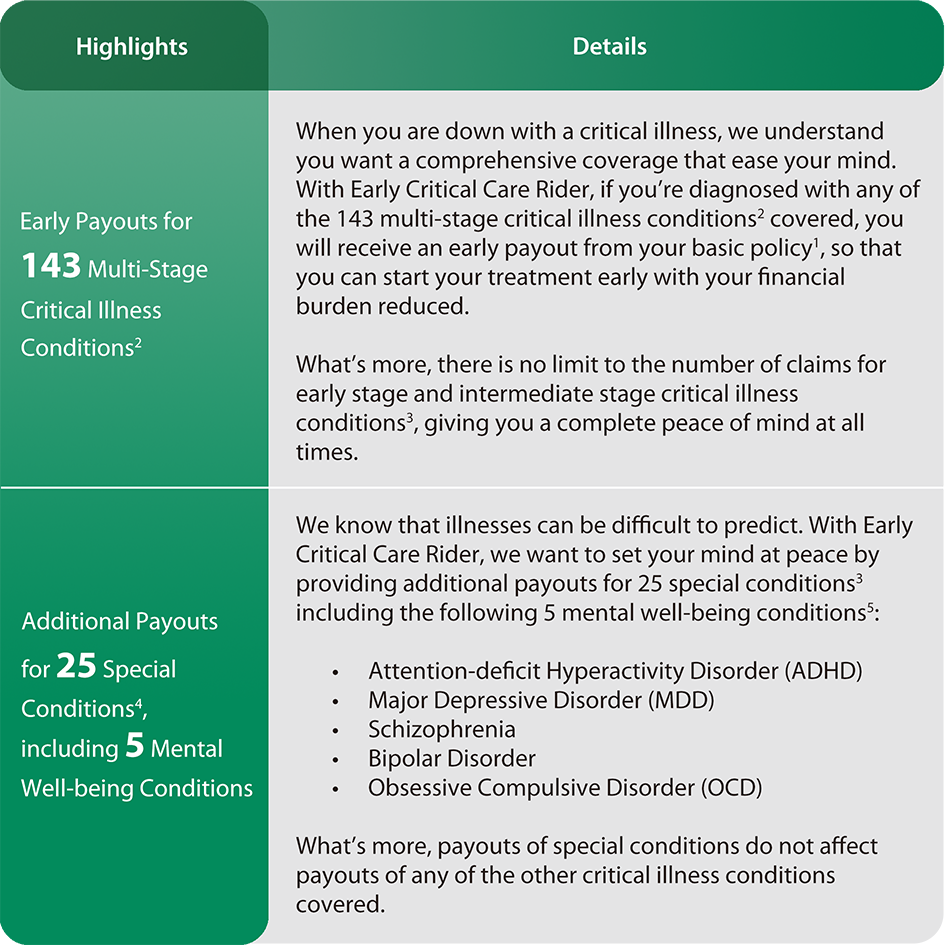 Distributed By
Our Agency Channel:
China Life Singapore has a trusted and experienced agency team to serve you and provide you a hybrid and customized financial solutions to fulfil your holistic financial needs in risk protection, retirement, wealth management, and legacy planning. Welcome to reach out to any one of our financial specialist consultants to understand the solutions that China Life Singapore can offer to you.

1. For eligible plans only. For more information, please contact your China Life Financial Specialist Consultant.
2. The full list of benefits covered and their detailed definitions can be found in the product summary and policy provision that can be obtained from your China Life Financial Specialist Consultant. For certain critical illness conditions, there is a waiting period of 90 days from the rider cover start date, date of rider issuance, date of endorsement or the date of reinstatement of the rider, whichever is later. Survival period is applicable before a claim can be made.
3. Subsequent claim for the benefit for critical illness at the early stage and intermediate stage may only be admitted for :
a different critical illness (regardless of stage of critical illness) or
the same critical illness at the same or more severe stage provided that the subsequent claim is for a different organ and is not related to or not caused by any critical illness which was previously claimed under the policy or its riders.
The total claim paid under early stage and intermediate stage critical illness conditions is capped at S$1,050,000.
4. A max of 5 Special Condition claims can be admitted and each covered Special Condition can only be claimed once.
5. For certain mental well-being conditions, there is a waiting period of 3 years between claims.
You should seek advice from a financial adviser representative before making a commitment to purchase the plan.
Buying health insurance products that are not suitable for you may impact your ability to finance your future healthcare needs. Premiums for the riders are not guaranteed and may be adjusted based on future claims experience.
This marketing material is for reference only and does not consider your specific investment objectives, financial situation or needs. It is not a contract of insurance and is not intended as an offer or recommendation to purchase the plan. The specific details applicable to this insurance plan are set out in the policy contract. In case of discrepancy between the English and Mandarin versions, the English version shall prevail.
This policy is protected under the Policy Owners' Protection Scheme which is administered by the Singapore Deposit Insurance Corporation (SDIC). Coverage for your policy is automatic and no further action is required from you. For more information on the types of benefits that are covered under the scheme as well as the limits of coverage, where applicable, please contact your insurer or visit the GIA/LIA or SDIC web-sites (www.gia.org.sg or www.lia.org.sg or www.sdic.org.sg).
Information is correct as at 1st March 2022.