China Life Insurance Singapore and China Eastern Airlines Singapore Branch sign Memorandum of Understanding
Body
SINGAPORE, 13 September 2023 - China Life Insurance (Singapore) Pte. Ltd. ("CLIS") and China Eastern Airlines Co. Ltd., Singapore Branch ("CEAS") have signed Memorandum of Understanding ("MOU"). The MOU aims to establish a long-term partnership in various areas, including customer referrals, preferential policies, knowledge exchange, and consulting services. Both parties will collaborate to enhance competitiveness and market presence in the "Insurance + Aviation" ecosystem, while jointly strive to promote the development of Chinese enterprises in Singapore.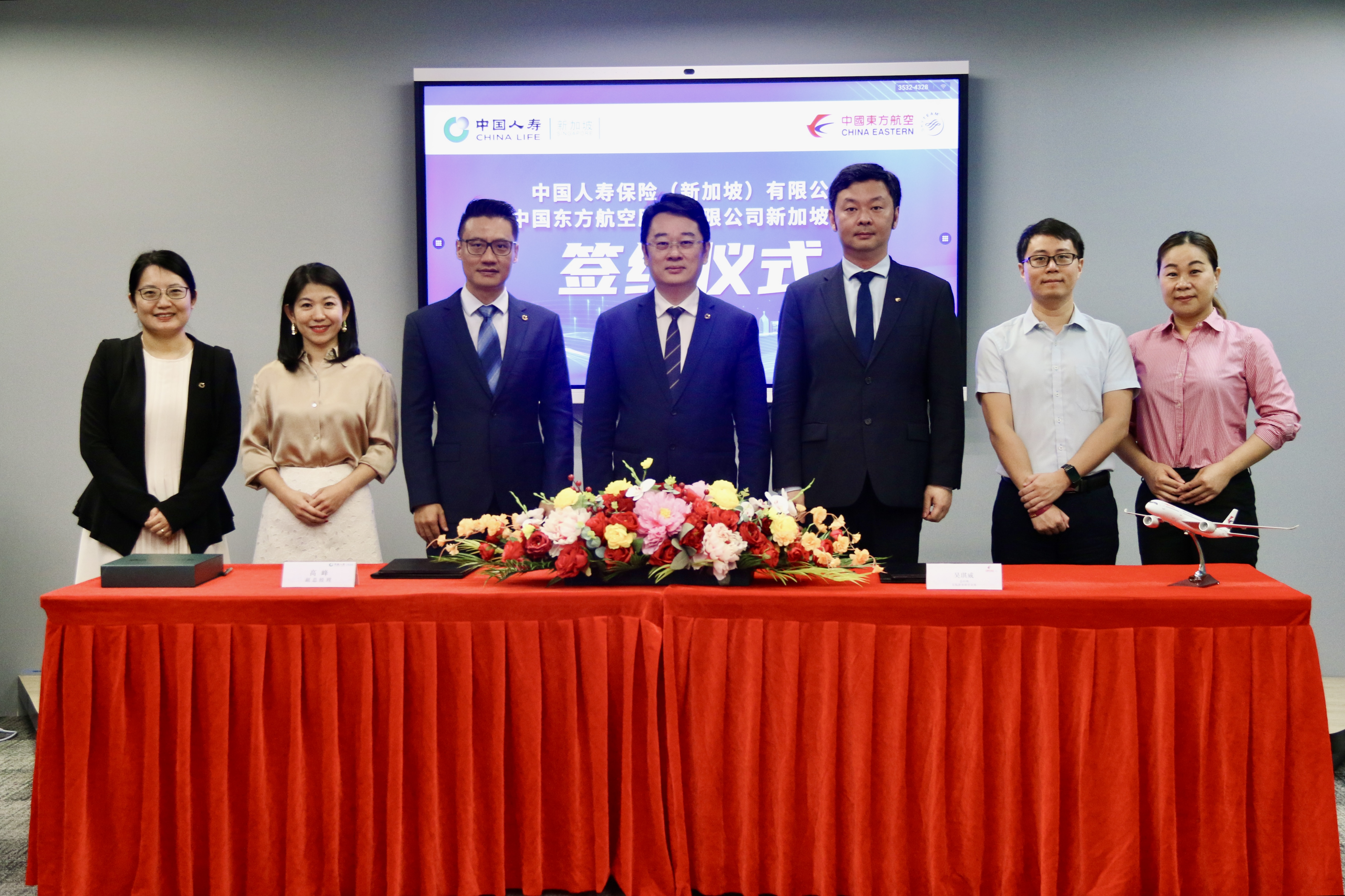 China Eastern Airlines Co., Ltd. ("CEA") is one of the three major airlines in China. CEA has extended its flight network to 1,036 destinations in 170 countries and regions via close cooperation with SkyTeam Alliance member airlines. The annual passenger turnover of CEA exceeds more than 130 million, ranking top 10 among global airlines. CEA operates a modern fleet of over 730 aircraft, which is one of the youngest fleets in major airlines worldwide. Moreover, it boasts the largest-scale in-flight Wi-Fi wide-bodied fleet with leading commercial and technical models in China. CEAS was established in 1994 and inaugurated the first "Shanghai-Singapore" flight route in 1995. Over the course of nearly 30 years of growth and development, as of 2019 (prior to the pandemic), CEAS had expanded to cover eight destinations in China. The annual passenger turnover of CEAS reached approximately 367,000. This made CEAS the Chinese airline with the widest network and the largest capacity stationed in Singapore.
Presently, CLIS is placing a strong emphasis on addressing the protection needs of its customers while actively exploring collaborations with relevant industries. Through its "insurance+" ecosystem, it aims to establish connections to a wider range of sectors, including finance, technology, healthcare, education, retirement, taxation, investment, legal services, and daily living. The objective is to create a more comprehensive and higher-quality insurance+ ecosystem by consistently developing integrated solutions that offer exceptional products and services. CLIS is committed to providing outstanding, star-rated services that span the entire value chain and deliver utmost value to its diverse customer base.
Mr. Gao Feng, Deputy Chief Executive of CLIS, and Mr. Wu Qiwei, General Manager of CEAS, signed the MOU. The signing was witnessed by Mr. Lin Xiangyang, Chief Executive of CLIS, Ms. Zong Ming, General Manager of Agency Department, Ms. Ma Peipei, Deputy General Manager of General Management Department, along with Mr. Wu Wenbin, Sales Manager of CEAS, and Ms. Elva Fang, Customer Manager of CEAS.
Mr. Lin Xiangyang expressed that the MOU represents a new milestone. CLIS is introducing a "Dual Expansion" strategy to further facilitate the profound integration of "Insurance + Aviation". The first strategy involves the development of exclusive products and innovative services tailored to cater to the aviation clientele. CLIS will leverage its collaboration with CEAS to explore the creation and provision of specific, high-quality insurance products and services. As part of the broader "insurance+" ecosystem development, CLIS is committed to expanding its product portfolio across various categories and actively engaging in innovation to meet the evolving needs of the aviation industry. The second strategy entails the collaborative establishment of a new service demand platform for "Insurance+ Aviation" through strategic alignment, innovative cooperation, model replication, and operational synergy. This platform aims to jointly explore and harness resources in partnership with aviation industry.